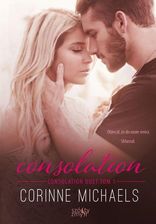 Duet Consolation Tom 1 - Corinne Michaels
Ocena:
Cena:

24

,99

zł

Kup teraz
Promocje:

Świąteczne okazje! Sprawdź!
DUET CONSOLATION TOM 1 - CORINNE MICHAELS
Produkty rekomendowane dla Ciebie
Duet Consolation Tom 1 - Corinne Michaels - Opinie
Za ocenę zakupionego produktu otrzymasz 3 CeneoPunkty. Aby otrzymać CeneoPunkty najpierw zaloguj się do Ceneo. + 3 CeneoPunkty Za wystawienie opinii otrzymasz 3 CeneoPunkty. Zebrane CeneoPunkty możesz wymieniać na nagrody rzeczowe.
Nie masz jeszcze konta? Zarejestruj się. + 30 CeneoPunktów Za rejestrację otrzymasz 30 CeneoPunktów. Zebrane CeneoPunkty możesz wymieniać na nagrody rzeczowe.
Chcę napisać opinię + 3 CeneoPunkty Za wystawienie opinii otrzymasz 3 CeneoPunkty. Zebrane CeneoPunkty możesz wymieniać na nagrody rzeczowe.
Zobacz jakie opinie mają użytkownicy o produkcie Duet Consolation Tom 1 - Corinne Michaels i jak oceniają go pod kątem jakości wykonania, ceny i wyglądu.
Dzisiaj skończyłam to cudo! I zgadzam się ze stwierdzeniem, ze "Tej historii nie zapomnisz. A kiedy poznasz jej zakończenie, będziesz marzyć o tym aby natychmiast poznać jej dalszy ciąg." Polecam każdemu te książkę!! Nie zawiedziesz się wręcz przeciwnie, będziesz chciał więcej!

Nieoczekiwane zakończenie, które zmusza do zakupu kolejnej części. Książka poprawna, ale bez wielkiego "łał".

Opinia potwierdzona zakupem

W tym tygodniu nowe wydawnictwo, Szósty Zmysł, szturmem wdarło się na rynek ze swoją pierwszą książką: "Consolation" Corinne Michaels, powieścią z nurtu new adult. Napis na okładce głosi, że jest to znakomita książka dla fanek Colleen Hoover, liczyłam więc na podobne emocje, na powieść tak wciągającą, że nie będę chciała wypuścić jej z rąk. Czy właśnie to dostałam?

Zacznę od kilku słów na temat fabuły. Natalie Gilcher ma 27 lat, kochającego męża Aarona i pierwsze, długo wyczekiwane dziecko w drodze. Sielanka nie trwa jednak długo, a życie Natalie zamienia się w koszmar, kiedy dociera do niej wieść o śmierci Aarona podczas jednej z misji, na którą pojechał jako komandos SEAL. Kobieta musi nauczyć się żyć dalej, jeśli nie dla siebie, to dla swojej córeczki Aarabelle, której nigdy nie będzie dane poznać własnego ojca. Choć Natalie czuje, że już nigdy nie będzie szczęśliwa, wszystko zaczyna zmieniać się na lepsze, kiedy na jej progu staje Liam, najlepszy przyjaciel jej męża, i oferuje jej pomoc. Mężczyzna powoli wyciąga zrozpaczoną wdowę z jej skorupy, przywracając na jej twarz uśmiech i otwierając jej serce na nowe uczucia. Jednak czy widmo Aarona nie stanie pomiędzy nimi, powstrzymując ich przed zaangażowaniem się w ten związek? I czy Natalie ma siłę związać się z kolejnym komandosem?

Jak widać po opisie, zapowiadała się emocjonująca lektura, w stylu Colleen Hoover. Obawiam się jednak, że królowa new adult podniosła dla mnie poprzeczkę zbyt wysoko, bo lektura "Consolation" była dla mnie mniej więcej tak samo emocjonująca, co gazetka promocyjna z Biedronki. Niby były tragedie, dramaty, nowa miłość - wszystko to, co powinno sprawić, że będę płakać, śmiać się i przeżywać wszystko razem z bohaterami, ale przez większą część książki ich losy były mi po prostu obojętne.

Większość rozdziałów napisana jest z perspektywy Natalie i to ona z dwójki głównych bohaterów zdobyła więcej mojej sympatii. Chociaż z dnia na dzień jej idealny świat legł w gruzach, znalazła w sobie siłę, żeby się nie poddać, ale każdego dnia wstawać z łóżka i troszczyć się o córeczkę, na którą przelała całą swoją miłość. Natalie musi zmagać się z rozpaczą po stracie męża, trudami samotnego macierzyństwa, a także z poczuciem winy i wątpliwościami, jak szybko można otworzyć serce na kogoś innego, po stracie ukochanego mężczyzny. Autorka skłania czytelników do refleksji, czy żałoba ma termin ważności i kto powinien go określać - osoba bezpośrednio dotknięta żałobą, czy ludzie dookoła.

Wracając do wspomnianego idealnego świata, książka ta ciekawie pokazuje, w jaki sposób emocje potrafią wpływać na nasze wspomnienia, idealizując to, co wcale nie było idealne. Lubię takie trochę psychologiczne motywy, więc ten aspekt "Consolation" bardzo mi się spodobał.

Pora na kilka słów o Liamie. Część rozdziałów przedstawia jego perspektywę, ale szczerze mówiąc wolałabym, żeby ich nie było, bo już pierwszy bardzo negatywnie wpłynął na moją ocenę tej postaci. Z relacji Natalie wyłania się obraz ciepłego, troskliwego, dobrego człowieka i nie twierdzę, że taki nie jest, ale dopiero kiedy autorka wpuszcza nas do jego głowy, mamy dostęp do drugiej części jego natury, a ta ani trochę mi się nie spodobała. Z Liama wyszedł typowy, obrzydliwy samiec, który klnie, wyraża się o kobietach w kompletnie pozbawiony szacunku sposób, i stwierdza, że aby nie myśleć o Natalie, musi "zaliczyć jakąś laskę". Przyznaję, że w dalszej części książki Liam zyskał trochę w moich oczach i widać, że naprawdę kocha i szanuje Natalie, ale po tym pierwszym rozdziale z jego perspektywy, nie potrafiłam już go polubić.

Jak to w książkach new adult, w książce Corinne Michaels pojawia się kilka scen erotycznych. Generalnie nie jestem fanką takich opisów, bo uważam, że pewne rzeczy powinny być pozostawione "za kulisami". Niektórzy autorzy (choć częściej autorki) potrafią jednak przedstawić intymność między dwojgiem ludzi w subtelny, pozbawiony wulgarności i zbędnych szczegółów sposób. Czy tak było w "Consolation"? Niestety nie - niektóre sformułowania były tak dziwaczne, że zdarzało mi się przewracać oczami i parskać śmiechem. Chyba nie na taki efekt liczyła autorka.

Zanim zaczęłam czytać tę powieść, spotkałam się z kilkoma opiniami, że zakończenie szokuje i łamie serce. Może i tak by było, gdybym w połowie książki nie domyśliła się, jakie ono będzie. Do końca miałam nadzieję, że może jednak się mylę i autorka jeszcze mnie zaskoczy i wzbudzi we mnie jakieś emocje, ale niestety - zawiodłam się. To, co u wszystkich wywołało chęć natychmiastowego sięgnięcia po drugi tom, u mnie wywołało efekt odwrotny i raczej nie mam ochoty czytać kontynuacji.

"Consolation" nie jest generalnie złą książką - czyta się ją szybko, miejscami jest zabawna, porusza też kilka ważnych tematów, ale ewidentnie nie była to lektura dla mnie. Nikomu jej nie odradzam, bo - patrząc na inne recenzje - jestem w zdecydowanej mniejszości ze swoją opinią, więc każdy powinien sam sprawdzić, czy ten tytuł mu się spodoba. Aczkolwiek jeśli chodzi o mnie, to pozostanę przy jedynych dwóch autorkach new adult, którym ufam: Colleen Hoover i M.C. Frank.
Produkty rekomendowane dla Ciebie
Zastanawiasz się jak poprawnie użytkować zakupiony produkt? Porady na forum naszych ekspertów w mig rozwieją Twoje wątpliwości! Pytania i Odpowiedzi pomogą użytkownikom serwisu w poprawnym korzystaniu i cieszeniu się z nowo zakupionych produktów.
Duet Consolation Tom 1 - Corinne Michaels - Pytania i odpowiedzi
Tylko 'kup teraz'

Odbierz osobiście w

Pokaż oferty

Sortuj wg
Najlepsze oferty wybrane przez Ceneo
?
Jak wybieramy oferty?
Aby ułatwić wybór odpowiedniej oferty, wyróżniliśmy produkty z najlepszych sklepów, które:
są bardzo dobrze oceniane przez użytkowników
informują o dostępności towarów
mają konkurencyjne ceny
posiadają minimum 10 opinii
Sklepy, które spełniają wszystkie powyższe kryteria mogą również decydować o miejscu, na którym znajdzie się ich oferta w ramach strefy. Decyduje o tym mechanizm licytacji.
Pozostałe oferty dla Duet Consolation Tom 1 - Corinne Michaels
Ocena 5/ 5

27540 opinii

23

,33

zł

dostępny

Idź do sklepu

Consolation duet. Consolation. Tom 1 - Wysyłka od 3,99

23

,33

zł

Ocena 4,5/ 5

141967 opinii

23

,34

zł

dostępny

Idź do sklepu

Consolation Consolation duet Tom 1 - ŚWIĄTECZNA OFERTA W SUPERCENACH

23

,34

zł

Ocena 5/ 5

222 opinie

23

,43

zł

dostępny

Idź do sklepu

Consolation Consolation duet Tom 1 - Jeśli zamówisz do 14:00, wyślemy tego samego dnia.

23

,43

zł

Ocena 5/ 5

217 opinii

23

,43

zł

dostępny

Idź do sklepu

Consolation Consolation duet Tom 1 - Jeśli zamówisz do 14:00, wyślemy tego samego dnia.

23

,43

zł

Ocena 4,5/ 5

59 opinii

23

,43

zł

dostępny

Idź do sklepu

Consolation Consolation duet Tom 1 - Jeśli zamówisz do 14:00, wyślemy tego samego dnia.

23

,43

zł

Ocena 5/ 5

24950 opinii

23

,88

zł

dostępny do 3 dni

Idź do sklepu

Consolation Consolation duet Tom 1

23

,88

zł

Ocena 5/ 5

10414 opinii

23

,90

zł

dostępny

Idź do sklepu

Consolation. Consolation duet Tom 1

23

,90

zł

Ocena 5/ 5

4463 opinie

24

,04

zł

sprawdź dostępność

Idź do sklepu

Consolation Duet. Tom 1. Consolation- Atrakcyjne promocje, wysyłka już od 3,99 zł

24

,04

zł

Ocena 5/ 5

4061 opinii

24

,50

zł

dostępny

Idź do sklepu

Consolation duet. Consolation. Tom 1 - dostawa od 3,89 PLN

24

,50

zł

Ocena 4,5/ 5

5282 opinie

25

,21

zł

dostępny do 3 dni

Idź do sklepu

Consolation. Consolation duet Tom 1

25

,21

zł

Ocena 4,5/ 5

36986 opinii

25

,23

zł

dostępny

Idź do sklepu

Consolation. Consolation duet. Tom 1

25

,23

zł

Ocena 5/ 5

257 opinii

25

,29

zł

dostępny

Idź do sklepu

CONSOLATION DUET TOM 1

25

,29

zł
Popularne opinie o Duet Consolation Tom 1 - Corinne Michaels
Produkty rekomendowane dla Ciebie