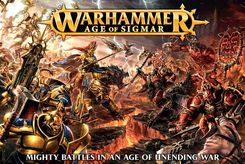 Zestaw Startowy do nowej serii asygnowanej logiem Games Workshop - Warhammer Age of Sigmar!W środku znajdziemy dwie kompletne armie: Stormcast Eternal i Khorne Goretide - razem 47 modeli. ---The World Before Time is gone. Shattered. Consigned to an oblivion no-one thought possible. The metallic core of that ill-fated world was hurled through the cosmos, the God-King Sigmar clinging desperately to its sigmarite surface. Aeons passed, until the core caught the attention of the great drake Dracothion; it was he who rescued Sigmar, and taught him the secrets of the Mortal Realms - connected by Realmgates and peacefully populated for many years.But even in this utopia, Chaos would find a way to corrupt and distort everything. The Age Of Chaos gradually turned life in the realms into hell. Embracing wisdom instead of strength, Sigmar retreated to the Celestial Realm and began assembling the greatest mortal warriors, steeping them in the magic of the stars and instilling them with absolute divinity.The Stormcast Eternals, as Sigmar named them, are ready. Sigmar's storm is lined up to unleash its fury on the forces of chaos. The realms will tremble and the skies will scorch as the legions of the Dark Gods feel the blistering rage of the Stormhosts!The Age Of Sigmar has arrived.Warhammer Age of Sigmar is a fantastic starter set for any and all fans of Warhammer! Detailing the first incursions of the Realmgate Wars, this box set contains everything you need to begin your adventures in the Age Of Sigmar. There's a stunning amount of goodies contained inside - you get:Forty-seven incredible Citadel miniatures (no, really, forty-seven) to start off your collection, including:One Lord-CelestantOne Lord-RelictorThree RetributorsTwo units of five LiberatorsThree ProsecutorsOne Mighty Lord of KhorneOne BloodsecratorOne BloodstokerOne KhorgorathFive Blood WarriorsTwo units of ten Bloodreavers.A ninety-six page Warhammer Age of Sigmar book containing:All new background information on the realms and factions in the Age of Sigmar;Guides to all the included miniatures - who they are, their place in their army and their abilities, plus pages of incredible showcases;A thrilling play-through narrative, introducing the deep, compelling story behind Warhammer Age of Sigmar;All the rules and Warscrolls for every miniature included in the box.As well as this, the box contains:A four-page rules set (this is everything you need to know to begin playing);A pack of twelve dice;Two range rulers;Two Stormcast Eternal Transfer sheets.
| | |
| --- | --- |
| Liczba graczy | |
| Producent | |
| Rodzaj | |
Warhammer Age of Sigmar: Starter Set - Opinie
Nikt jeszcze nie napisał opinii o tym produkcie. Bądź pierwszy!
Za ocenę zakupionego produktu otrzymasz 3 CeneoPunkty. Aby otrzymać CeneoPunkty najpierw zaloguj się do Ceneo. + 3 CeneoPunkty Za wystawienie opinii otrzymasz 3 CeneoPunkty. Zebrane CeneoPunkty możesz wymieniać na nagrody rzeczowe.
Nie masz jeszcze konta? Zarejestruj się. + 30 CeneoPunktów Za rejestrację otrzymasz 30 CeneoPunktów. Zebrane CeneoPunkty możesz wymieniać na nagrody rzeczowe.
Chcę napisać opinię + 3 CeneoPunkty Za wystawienie opinii otrzymasz 3 CeneoPunkty. Zebrane CeneoPunkty możesz wymieniać na nagrody rzeczowe.
Zastanawiasz się jak poprawnie użytkować zakupiony produkt? Porady na forum naszych ekspertów w mig rozwieją Twoje wątpliwości! Pytania i Odpowiedzi pomogą użytkownikom serwisu w poprawnym korzystaniu i cieszeniu się z nowo zakupionych produktów.
Warhammer Age of Sigmar: Starter Set - Pytania i odpowiedzi
Oferty dla Warhammer Age of Sigmar: Starter Set
Popularne opinie o Warhammer Age of Sigmar: Starter Set