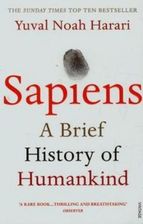 Sapiens
Yuval Noah Harari, rok wydania 2015, oprawa Miękka, wydawnictwo: Vintage Books
Ocena:
Cena od:
This is The Sunday Times Bestseller. Planet Earth is 4.5 billion years old. In just a fraction of that time, one species among countless others has conquered it. Us. We are the most advanced and most destructive animals ever to have lived. What makes us brilliant? What makes us deadly? What makes us Sapiens? In this bold and provocative book, Yuval Noah Harari explores who we are, how we got here and where we're going. Sapiens is a thrilling account of humankind's extraordinary history - from the Stone Age to the Silicon Age - and our journey from insignificant apes to rulers of the world. "It tackles the biggest questions of history and of the modern world, and it is written in unforgettably vivid language. You will love it!" (Jared Diamond, author of Guns, Germs and Steel). "A rare book...thrilling and breathtaking" The Observer "I have just read Yuval Noah Harari's book Sapiens. It is brilliant. Most likely the best - and I have read very many - on the history of humankind. I have never read anything better" -- Henning Mankell "Full of shocking and wondrous stories" Sunday Times "Sapiens is a starburst of a book, as enjoyable as it is stimulating" Sunday Express "Reading it is like having a mental massage, cold shower and brisk workout, and all in the comfort of your own home" -- Esther Rantzen Mail on Sunday "Provocative, thrilling erudite... One of the year's most talked-about books" Metro "Consistently engaging...Harari writes prose that leaps from the page. His broad sweep, collating philosophy, science, history and economics, creates moments of eyebrow-raising revelation for a reader from any background" New Statesman "Sapiens is a fast-paced, witty and challenging romp through 70,000 years of human history...I did love it, and if you are interested in the whole story of humankind, I'm confident that you will love it too" Literary Review "Harari is able to be as refreshingly clear in his discussions of biology, of evolutionary anthropology and of economics as he is of historical trends... Stick with him and you learn a lot" Daily Telegraph "We usually think that we are an outcome of our personal history, where we grew up, the way our parents educated us, etc. In Sapiens, Harari delves deep into our history as a species to help us understand who we are and what made us this way. An engrossing read." Dan Ariely, New York Times Bestselling author of Predictably Irrational "Harari delivers a boldly synthesized account of Homo sapiens' rise through the hominin ranks...A view of our ascent as nasty, brutish, long - and endlessly fascinating" Nature "Eloquent and wonderfully funny" i "Harari can write. Not in the sense that most authors can...But really, really write, with wit, clarity, elegance and a wonderful eye for metaphor" The Times "This is mega-history of the best sort: sweeping but not simplistic, contemporary but not gimmicky, provocative but not contrarian. Almost everyone will want to argue with one part of this book or another, but working out which part and why will do us all good." Dr Steven Gunn "For its sheer originality and intellectual stimulation, I was captivated by Yuval Noah Harari's Sapiens" -- Matthew d'Ancona Evening Standard - Books of the Year "Probably the most ambitious history book of the year. Certainly the most thought-provoking" -- Dan Jones Evening Standard - Books of the Year
| | |
| --- | --- |
| Autor | |
| Wydawnictwo | |
| Rok wydania | |
| Ilość stron | |
| Oprawa | |
Produkty rekomendowane dla Ciebie
Za ocenę zakupionego produktu otrzymasz 3 CeneoPunkty. Aby otrzymać CeneoPunkty najpierw zaloguj się do Ceneo. + 3 CeneoPunkty Za wystawienie opinii otrzymasz 3 CeneoPunkty. Zebrane CeneoPunkty możesz wymieniać na nagrody rzeczowe.
Nie masz jeszcze konta? Zarejestruj się. + 30 CeneoPunktów Za rejestrację otrzymasz 30 CeneoPunktów. Zebrane CeneoPunkty możesz wymieniać na nagrody rzeczowe.
Chcę napisać opinię + 3 CeneoPunkty Za wystawienie opinii otrzymasz 3 CeneoPunkty. Zebrane CeneoPunkty możesz wymieniać na nagrody rzeczowe.
Zobacz jakie opinie mają użytkownicy o produkcie Sapiens i jak oceniają go pod kątem jakości wykonania, ceny i wyglądu.
Genialna książka, najpierw słuchałam audiobooka, ale kupiłam również wersję papierową, niektóre fragmenty są genialne, chcę je sobie pozaznaczać

Opinia potwierdzona zakupem

Anglojęzyczna wersja bestselleru. Bardzo ciekawie przedstawiona historia ludzkości. Uwielbiam popularnonaukową literaturę w języku angielskim.

Opinia potwierdzona zakupem

Świetnie napisana, wciągająca, czyta się z przyjemnością i dużym zainteresowaniem.

Opinia potwierdzona zakupem

Opinia potwierdzona zakupem
Produkty rekomendowane dla Ciebie
Zastanawiasz się jak poprawnie użytkować zakupiony produkt? Porady na forum naszych ekspertów w mig rozwieją Twoje wątpliwości! Pytania i Odpowiedzi pomogą użytkownikom serwisu w poprawnym korzystaniu i cieszeniu się z nowo zakupionych produktów.
Sapiens - Pytania i odpowiedzi
Odbierz osobiście w

Pokaż oferty

Sortuj wg
Najlepsze oferty wybrane przez Ceneo
?
Jak wybieramy oferty?
Aby ułatwić wybór odpowiedniej oferty, wyróżniliśmy produkty z najlepszych sklepów, które:
są bardzo dobrze oceniane przez użytkowników
informują o dostępności towarów
mają konkurencyjne ceny
posiadają minimum 10 opinii
Sklepy, które spełniają wszystkie powyższe kryteria mogą również decydować o miejscu, na którym znajdzie się ich oferta w ramach strefy. Decyduje o tym mechanizm licytacji.
Pozostałe oferty dla Sapiens
Ocena 5/ 5

4504 opinie

27

,07

zł

dostępny

Idź do sklepu

Sapiens a brief history of humankind - Atrakcyjne promocje, wysyłka już od 3,99 zł

27

,07

zł

Ocena 4,5/ 5

436 opinii

27

,62

zł

dostępny

Idź do sklepu

Sapiens a brief history of humankind - Bogata oferta w super cenach, wysyłki od 3,99 zł

27

,62

zł

Ocena 4,5/ 5

1231 opinii

29

,57

zł

dostępny

Idź do sklepu

Sapiens a brief history of humankind - Książki za 3 zł. Sprawdź!

29

,57

zł

Ocena 4,5/ 5

1823 opinie

44

,50

zł

dostępny do tygodnia

Idź do sklepu

Sapiens (Harari Yuval Noah)

44

,50

zł

Ocena 4,5/ 5

1257 opinii

50

,80

zł

dostępny do 14 dni

Idź do sklepu

Ocena 4,5/ 5

6588 opinii

100

,70

zł

dostępny do 14 dni

Idź do sklepu
Popularne opinie o Sapiens
Produkty rekomendowane dla Ciebie