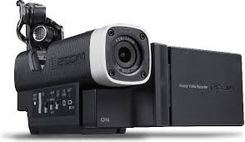 Features Definitive Sound. Singular Vision. The world needs listeners and viewers, but it belongs to the creators. The Zoom Q4 is all about bringing a new dimension to your music. It combines high-definition video with high-resolution audio, providing everything you need to shoot amazing videos with incredible sound. That means you'll never have to compromise on creativity. The Sound Behind The Scenes Without sound, our creations would fall flat. The Q4 delivers audio nuance and quality that far surpass that of any other video camera. Its built-in X/Y microphone allows you to create stunning stereo recordings that cover a wide area while still capturing sound sources in the center with clarity and definition. High-Resolution Audio meetsHigh-Definition Video Zoom products have long set the gold standard for portable audio. The all-new Q4 redefines the state of the art in portable video. Professional videographers understand that the sound is as important as the scene. It's not enough to capture the sound of the ocean; you have to be able to feel the water bubbling beneath your feet. The Q4 delivers exactly that kind of experience. Its unique blend of high-resolution 24-bit/96k audio with high-definition 1080p video means never having to compromise on quality. X/Y Stereo Recording The Q4's wide angle X/Y microphone incorporates two matched unidirectional elements—mics that are especially sensitive to signal coming from directly in front, and less sensitive to signal coming from behind or from the sides. The convenient placement of the mic enables the supplied windscreen to be easily attached, allowing you to use the Q4 even on difficult outdoor shoots. In addition, a built-in low-cut filter can be used to reduce low-frequency noise, allowing you to capture great sound both indoors and outdoors. High-Resolution Perspective The Q4's versatile and flexible design challenges video creators to push themselves to the limit. Compact yet compatible with standard tripod and three prong action camera mounts, the Q4 can go anywhere. Its wide-angle lens and choice of video formats and frame rates allow the Q4 to record sharp, detailed images in any situation, and its full-color rotating LCD—which can be detached during shooting for portability and extended battery life—provides a clear preview of each moment you capture. Make Connections The Q4's LCD and built-in speaker allows instant monitoring of your recordings, but it also offers additional flexibility through its various connectors: a stereo 1/8" Mic/Line In jack, a stereo 1/8" Line In/Headphone jack, a micro-HDMI video output, and a USB port. Make use of a wide range of devices to boost your production capabilities: connect, stream, and share. Charge Forward All you need to power the Q4 is the single supplied lithium-ion (Li-Ion) battery, which can be recharged with the use of an optional AC adapter or by connecting the Q4 to your computer via USB. Battery life is approximately three hours when shooting video at 720p/30fps, or two hours when shooting high-definition 1080/30fps video, giving you the freedom to leave the studio behind and explore the world around you.Flexible Formats The Q4 records directly to SDXC cards up to 128GB in a variety of video and audio file formats, making it fully adaptable for your needs. The three HD settings provide maximum video quality while the two WVGA options can be used to conserve SD card space. The Q4 supports two audio file formats: WAV, up to 24-bit/96kHz, for uncompressed full fidelity sound, or AAC to conserve space. APPLICATIONS It's All About the Experience The Q4 doesn't just get good footage, it captures experiences. Use it to document the important events in your life such as weddings, anniversaries, and graduations—or use it for creative projects, giving your work the crisp, realistic quality it deserves.MEMORY MAKING Enjoy That Great Performance Over and Over Again The Q4's built-in X/Y microphone is designed to capture the natural ambience of a live concert and deliver lifelike sound with sharpness and definition. An optional guitar clamp lets viewers experience firsthand what it's like to be onstage. VIDEO MAKING Capture Shots From A Better Perspective Compact, lightweight, and mountable on any standard tripod or three prong action camera mount, the Q4 is optimized to go where the action is. It offers a full-color LCD which can be freely rotated for self-shooting or detached for increased portability and extended battery life. Sensing options allow the Q4 to automatically adapt to various lighting situations, and there are selectable viewing angles too. The Q4 is also able to send digital data to DAWs or video editors such as iMovie or Final Cut Pro. NEWS MAKING Take It Wherever You Go The Q4 can act as a live web camera or USB microphone, making it as useful for reporting breaking news in the field as it is for personal blogs or conducting interviews. Use it handheld or mount it to any standard tripod or three prong action camera mount for a wide range of interesting angles. MUSIC MAKING Unparalleled Audio Quality The Q4's X/Y microphone and support for high-resolution audio assure full fidelity without compromise, and it's also compatible with a wide array of audio software products that allow you to further enhance your creativity. Connect to your computer or iPad (using an Apple Camera Connection Kit), select your preferred editing or streaming software, and be heard.Q4 Features at a glance VIDEO ■ HD video resolutions up to 1080p (MPEG-4 AVC/H.264) ■ Capture more with the 130-degree wide angle lens ■ "Vari-angle" LCD flips to lens side for easier self-shooting ■ Three lighting presets (Auto / Concert Lighting / Night) ■ Live-streaming function with HD video AUDIO ■ Up to 24-bit/96 kHz PCM audio ■ Built in, professional quality stereo X/Y microphone ■ Auto Gain and Low-Cut filter functions ■ USB microphone function ■ Includes Hairy Windscreen for field recording PLUS... ■ Removable LCD ■ Rechargeable Li-ion battery. Up to three hours battery life ■ HDMI out, headphone out, external mic/line in ■ Accepts SDXC cards up to 128GB ■ USB cable for charging and data transfer* Windowsare registered trademarks of Microsoft Corporation. * Apple, Macintosh, Mac, iPad, iMovie, QuickTime, Final Cut Pro are registered trademarks of Apple Inc. * The SD, SDHC and SDXC logos are trademarks. * HDMI, the HDMI logo and High-Definition Multimedia Interface are trademarks or registered trademarks of HDMI Licensing, LLC. * YouTube and the YouTube logo are registered trademarks of Google, Inc. * Ustream and the Ustream logo are registered trademarks of Ustream, Inc. * All trademarks and registered trademarks are the property of their respective holders. Zoom Q4 łączy w sobie możliwości realizacji najwyższej jakości video i audio zapewniając wszystko, czego potrzebujesz przy pracy na scenie, w studio, sali prób czy w zaciszu domowego ogniska.Wideo:• rozdzielczość wideo do 1080p (HD, MPEG-4 AVC/H.264)• 130-stopniowe pole rejestracji• Obrotowy ekran LCD• Trzy ustawienia oświetkebua (Auto / Koncert / Noc)• Funkcja strumieniowej transmisji na żywo (wideo HD)Audio:• Do 24-bit/96 kHz PCM• Wbudowany mikrofon, profesjonalna jakość stereo X / Y• Automatyczne wzmocnienie i filtr górnoprzepustowy• Funkcja mikrofonu USBDodatkowo:• Możliwość zdjęcia ekranu LCD• Akumulator litowo-jonowy. Do trzech godzin pracy bez ładowania• HDMI OUT, wyjście słuchawkowe, zewnętrzny mikrofon / linia• akceptuje karty SDXC do 128GB• kabel USB do ładowania i przesyłania danychParametry techniczne:• Nośniki pamięci: SD / SDHC / SDXC (do 128GB)• Urządzenie rejestrujące: 1/3-calowy 3- megapikseli CMOS• Optyka: Obiektyw o stałej ogniskowej (55cm do nieskończoności), F2.8 ,• Ogniskowa: około 22 mm (ekwiwalent 35 mm)• Format wideo: MPEG-4 AVC / H.264 (MOV)• 30fps, rozdzielczość wideo HD1080p , 60fps , 30fps HD720p HD720p , 60fps , 30fps WVGA WVGA• Format audio WAV (kwantyzacja: 16/24bit, Częstotliwość próbkowania: 44.1/48/96kHz)• AAC (Bit Rate: 64 do 320 kbps, Częstotliwość próbkowania: 48 kHz)• Funkcje audio: filtr Lo-cut, Auto (Koncert / Solo / Spotkanie)• Funkcje regulacji obrazu: Kąt widzenia, wybór scen (Auto / Koncert / Noc)• Wyświetlacz: 2.0", kolorowy, LCD• Wbudowany mikrofon: X/Y, stereo (120°)• Maksymalny ciśnienie akustyczna: 130 dB• Wzmocnienie wejściowe: 7 dB do 47 dB• Złącza: linia / mikrofon, stereo mini jack• Wzmocnienie wejściowe: 0 dB do 26 dB• Złącze wyjścia: liniowe / słuchawkowe (gniazdo mini jack stereo)• Głośnik wbudowany: 400mW, 8Ω, monofoniczny• USB typ mini B (USB 2.0 High Speed ), USB-VIDEO, funkcje USB-AUDIO• Zasilanie akumulator litowo-jonowy: 3,7V napięcie nominalne, napięcie maksymalne 4.2V DC, pojemność 1050mAh• Zasilacz (ZOOM AD-17, sprzedawane oddzielnie): DC 5V/1A• Zasilanie z magistrali USB• Czasy ładowania akumulatora USB: Około 3 godzin• Zasilacz: Około 2 godzin 15 minut• Żywotność baterii: 3 godziny (w przypadku nagrywania 720p/30fps wideo z modułu LCD wolnostojący)• Wymiary Recorder: 106,4 ( szer.) x 57,8 ( wys.) x 30,4 (gł.) mm• Wyświetlacz LCD: 40,1 ( szer.) x 48,4 ( wys.) x 73,6 (gł.) mm• Waga: 167g (bez baterii)• Wyświetlacz LCD: 51g• Akcesoria w wyjmowana LCD , kabel USB, Akumulator litowo-jonowy, dead-cat (osłona przeciw wiatrowi), Podręcznik użytkownika.
Za ocenę zakupionego produktu otrzymasz 9 CeneoPunktów. Aby otrzymać CeneoPunktów najpierw zaloguj się do Ceneo. + 9 CeneoPunktów Za wystawienie opinii otrzymasz 9 CeneoPunktów. Zebrane CeneoPunkty możesz wymieniać na nagrody rzeczowe.
Nie masz jeszcze konta? Zarejestruj się. + 30 CeneoPunktów Za rejestrację otrzymasz 30 CeneoPunktów. Zebrane CeneoPunkty możesz wymieniać na nagrody rzeczowe.
Chcę napisać opinię + 9 CeneoPunktów Za wystawienie opinii otrzymasz 9 CeneoPunktów. Zebrane CeneoPunkty możesz wymieniać na nagrody rzeczowe.
Zobacz jakie opinie mają użytkownicy o produkcie Zoom Q4 i jak oceniają go pod kątem jakości wykonania, ceny i wyglądu.
Ocena:

5/5

Wystawiono użytkowania

bardzo dobry dźwięk, sprawdza się na koncertach.

obraz taki sobie, ale to kamera głównie

Opinia potwierdzona zakupem

Ocena:

4/5

Wystawiono użytkowania

dobrze

Opinia potwierdzona zakupem
Zastanawiasz się jak poprawnie użytkować zakupiony produkt? Porady na forum naszych ekspertów w mig rozwieją Twoje wątpliwości! Pytania i Odpowiedzi pomogą użytkownikom serwisu w poprawnym korzystaniu i cieszeniu się z nowo zakupionych produktów.
Zoom Q4 - Pytania i odpowiedzi
Najlepsze oferty wybrane przez Ceneo
?
Jak wybieramy oferty?
Aby ułatwić wybór odpowiedniej oferty, wyróżniliśmy produkty z najlepszych sklepów, które:
są bardzo dobrze oceniane przez użytkowników
informują o dostępności towarów
mają konkurencyjne ceny
posiadają minimum 10 opinii
Sklepy, które spełniają wszystkie powyższe kryteria mogą również decydować o miejscu, na którym znajdzie się ich oferta w ramach strefy. Decyduje o tym mechanizm licytacji.
Pozostałe oferty dla Zoom Q4
Popularne opinie o Zoom Q4