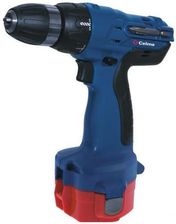 Celma WAK 12 12V 1.5Ah
Ocena:
Ostatnia cena:
Celma WAK 12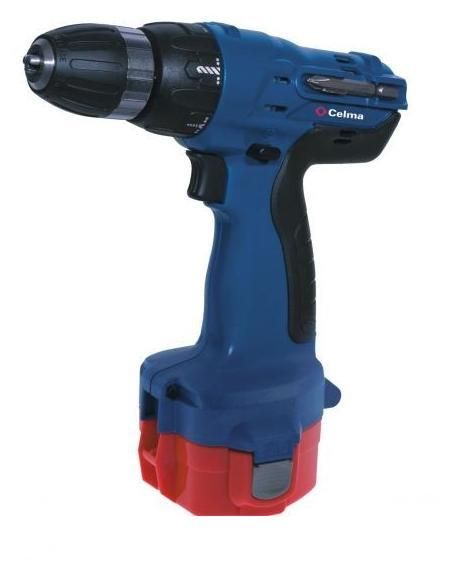 Wiertarko-wkrętarka dwubiegowa 12 V z silnikiem o maksymalnej prędkości obrotowej bez obciążenia 350 obr./min na biegu pierwszym oraz 1100 obr./min na biegu drugim, wyposażona w szybkomocujący uchwyt wiertarski pozwalający na montaż wierteł o średnicy 13 mm, układ łagodnego rozruchu oraz hamulec elektroniczny. W zestawie 2 akumulatory Ni-Cd o pojemności 2 Ah, ładowarka sieciowa oraz walizka.
Produkty rekomendowane dla Ciebie
Celma WAK 12 12V 1.5Ah - Opinie
Za ocenę zakupionego produktu otrzymasz 3 CeneoPunkty. Aby otrzymać CeneoPunkty najpierw zaloguj się do Ceneo. + 3 CeneoPunkty Za wystawienie opinii otrzymasz 3 CeneoPunkty. Zebrane CeneoPunkty możesz wymieniać na nagrody rzeczowe.
Nie masz jeszcze konta? Zarejestruj się. + 30 CeneoPunktów Za rejestrację otrzymasz 30 CeneoPunktów. Zebrane CeneoPunkty możesz wymieniać na nagrody rzeczowe.
Chcę napisać opinię + 3 CeneoPunkty Za wystawienie opinii otrzymasz 3 CeneoPunkty. Zebrane CeneoPunkty możesz wymieniać na nagrody rzeczowe.
Zobacz jakie opinie mają użytkownicy o produkcie Celma WAK 12 12V 1.5Ah i jak oceniają go pod kątem jakości wykonania, ceny i wyglądu.
Kupiłem sobie w 1978 roku wiertarkę Celma PRC-10. Używałem jej ciągle, dokupując przystawki: udarowa, przekładnia boczna, ostrzałka noży i nożyczek, dorobiłem trzpień z szczotką drucianą itp.. W 1981 roku otrzymałem mieszkanie. Całe mieszkanie wykończyłem przy jej pomocy - wiercenie otworów, cięcie drewna, szlifowanie prapetów lastrykowych, cięcie i szlifowanie boazerii, progów itp. Wiertarka harowała jak wół, grzała się czasami gdy bardzo dostawała w d..ę. Wytrzymała. Używalem jej dalej przez wiele lat w gospodarstwie domowym. w 2007 roku zacząłem budować dom. Znów wiertarka harowała jak wół przez pięć lat. Cięła, szlifowała, wierciła udarem, mieszała zaprawę, gipsy itp. Wytrzymała. Teraz wprowadziłem się do domu, znów wierciła wszelkie otwory itp. Używam jej nadal. Chyba jest nie do zdarcia!!!!!!! Mam nadzieję, że ten model będzie podobnie trwały.
Pozdrawiam wspaniałą Celmę.

Wpisz swój komentarz

Art Wystawiono

Dokładnie u mnie jest ten sam przypadek. Moja celma była droga, jak "fiks". Ale po 12 latach, mogę powiedzieć, że było warto. Dodam, że w międzyczasie rozwaliłem, jako zapasową bosha, zielonego, używanego 8 miesięcy. Nie jestem budowlańcem. Ja także mam nadzieję, że się nie zawiodę tym narzędziem.

Zgłoś nadużycie

Długo wachałem się nad zakupem wkrętarki Celma i pomimo, że wszyscy odradzali mi ten zakup i namawiali na boscha i makitę, postanowiłem kupić sprzęt w pełni made in Poland. Na pierwszy rzut oka to wygląd wkrętarki nie powala, prosta, solidna konstrukcja. Przy pierwszym ładowaniu baterii, spaliła się ładowarka ale w ciągu 3 dni miałem wszystko naprawione, kurier na koszt Celmy. Ładowarka chyba w ciągu godziny ładuje akumulator do pełna. Na razie przez pół dnia wierciłem otwory w metalowych kątownikach i nie mam powodów do narzekań. Polecam ten sprzęt i namawiam do kupowania polskich produktów, bo wbrew pozorom mamy jeszcze kilka dobrych firm.

Zalety

cena, gwarancja, solidność

Sprzęt Polski a nie jakaś tandeta made in China. Super wywazona działa bez najmniejszych kłopotów, Lekka i ergonomiczna. Stosunek centy do jakości wybitnie adekwatny!!! Szczerze polecam ! gwarancja na cały sprzęt łącznie z dwoma bateriami na 2 lata!! a nie jak u innych renomowanych rozreklamowanych firm na sprzęt 2 lata baterie 6 miesięcy !! GORĄCO POLECAM !!!

Zalety

Gwarancja 24 miesiące łącznie z dwoma bateriami (baterie 24 m-ce gwarancja)
Polski produkt renomowanej cenionej firmy z tradycją.
Stosunek ceny do jakości wybitnie adekwatny POLECAM

Wady

odlew obudowy może wydawać się niedopracowany !

Wpisz swój komentarz

Witek Wystawiono

właśnie zalety tego sprzętu to :gwarancja 2 lata i to ze jest produkowana w polsce, warta ceny

Zgłoś nadużycie

Zenek Wystawiono

popieram kolegę

nowy właściciel Wystawiono

jestem zadowolony

W czwartek kupiłem taka właśnie wiertarkę z zamiarem noszenia jej w swoim przenośnym kuferku z narzędziami. i mogę powiedzieć ze narazie się sprawdza jest bardzo lekka i można jej używać tam gdzie nie ma dostępu do gniazdek i innych takich źródeł prądu. Akumulator wytrzymuje dość długo ale to zależy od użycia.

Zalety

Mobilna
dobry akumulator
Solidnie wykonana

Wpisz swój komentarz

Mateusz Wystawiono

podpisuje sie pod tymi słowami pozdrawiam

Zgłoś nadużycie

Nikodem Wystawiono

polecam

Bogdan Wystawiono

@Mateusz nie ma to jak krótko zwięźle i na temat ja również polecam

Bardzo solidna i lekka wiertarko-wkretarka, na akumulatorze standadowym pracuje dosc dlugo, na poczatku po zakupie miala male opory przy zmianie akumulatora ale teraz sie dotarlo zapiecie i wszystko dziala jak nalezy, mimo ze jest akumulatorowa mozna wiercic bez oporu w stali.


Zalety

MOblina
lekka
mozna wiercic w stali
dlugi czas pracy

Kupiona na potrzeby remontu w domu, bo stara chwile przed nim się spaliła. Celme polecał mi gościu w sklepie, zachwalał i nie kłamał. Bardzo ładny i estetycznie zapakowane. Mocne akumulatory, długo da się nimi pracowa. Szczerze powiem, że wystarcza mi w 100%. Polecam

Bardzo gorąco polecam kupno tej wiertarki. Pracuje się nią wygodnie. Uchwyt nie poci dłoni. Wiertarka może całkiem długo pracować na jednym akumulatorze. Ładowanie jest szybkie. Wiertarka ma sporą moc ,która w rzeczywistości wystarcza.

Zalety

wygodny uchwyt, dobra moc, długi czas pracy

bardzo dobry produkt, mocna wkrętarka (przy przykręcaniu gk aż za duży moment. Bateria ładuje się tylko godzinę, ładowarka posiada wskaźnik naładowania baterii. Ogólnie polecam produkt. Do okazjonalnego użytkowania dla amatorów idealny.

Bardzo fajny sprzęt. 2 akumulator to duża wygoda w pracy. Są wytrzymałe i długo trzymają.
Wkretarka jest poręczna, choć przy dłuższej rpacy czuć jej ciężar. Ale jak ma byc wytrzymała, musi być solidna!
Godna polecenia.

Muszę przyznać, że jak sprzedawca mi zachwalał ten sprzęt to nie chciało mi się wierzyć, że faktycznie jest tak dobra jak mówi. No ale namówił mnie i naprawdę nie żałuje. Super się nią pracuje. Polecam.Cena jest świetna.
Produkty rekomendowane dla Ciebie
Zastanawiasz się jak poprawnie użytkować zakupiony produkt? Porady na forum naszych ekspertów w mig rozwieją Twoje wątpliwości! Pytania i Odpowiedzi pomogą użytkownikom serwisu w poprawnym korzystaniu i cieszeniu się z nowo zakupionych produktów.
Celma WAK 12 12V 1.5Ah - Pytania i odpowiedzi
Czas ładowania

Jaki jest czas ładowania akumulatora.

To pytanie nie ma odpowiedzi. Bądź pierwszy i zyskaj +

3

CeneoPunkty
Popularne opinie o Celma WAK 12 12V 1.5Ah
Produkty rekomendowane dla Ciebie